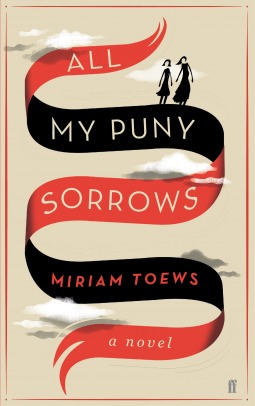 Publisher:
Faber & Faber 
Publication date: June 5th 
2014
Pages: 336
ISBN: 
9780571305285
Synopsis
A funny, serious and heart felt new novel about the biggest question of all.
Yolanda is conflicted. Her sister Elf has battled depression for her whole adult life, and is in a psychiatric ward under permanent observation after attempting suicide - again.
Yolanda has always looked up to Elf as her talented and beautiful older sister. She loves her with a fierce passion and wants to believe in the possibility of a future together, one in which Elf gets better. But it's looking unlikely and Yolanda has to decide; if the person you love is tired of living, is it kinder just to let them go?
All My Puny Sorrows (a line from a Coleridge poem) is written out of Miriam Toews's personal experience and is, in some ways, a grown-up version of A Complicated Kindness, the novel that catapulted Toews to her bestselling status in Canada. This story allows Toews's beguiling narrative voice - her easy, snappy, darkly comic intimacy - to sing through.